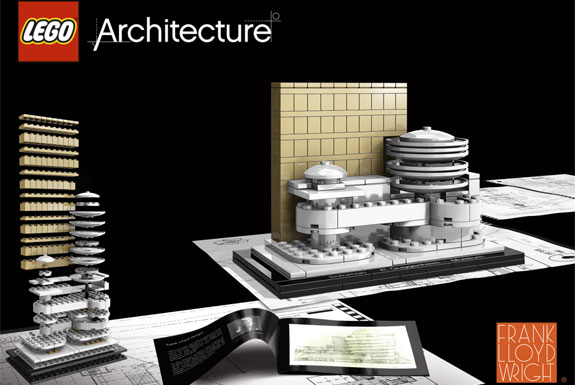 Spot Cool Stuff admits to being a LEGO purist. We like the basic plastic interlocking LEGO bricks that haven't changed much since 1958, the ones that can be built into virtually any construction that can be imagined. We generally aren't as big fans of many of the LEGO model sets (the trains series being a big exception) because their pieces can really only be used to build a specific shape, or specific plane or specific whatever. So it was with some surprise to us how great we found the LEGO's newest series: LEGO Architecture.
LEGO Architecture started with a partnership with the Frank Lloyd Wright Foundation to create LEGO renderings of six of the famous architect's buildings. Two were available for sale as of August 2009: New York City's Guggenheim Museum and Falling Water.
In addition to Frank Lloyd Wright Buildings, LEGO Architect also features major architectural landmarks such as the Taj Mahal, Sears Tower and Seattle Space Needle. There's no word yet on all the buildings planned for the series, though, personally, we hope the Petronas Twin Towers and Golden Gate Bridge are among them.
What's cool about the LEGO Architect series is that it "captures the essence of a particular landmark into its pure sculptural form," to use the words of the series designer. LEGO Architecture provides kids (and those kids at heart) with a sense of how the world's best buildings are constructed, brick by brick. Though, of course, nothing can replace a whole pile of basic LEGO peices and an active imagination.
SHOP LEGO USA | SHOP LEGO UK | BUY LEGO ARCHITECT ON AMAZON |
Related posts & pages:
The Erector Spykee Transforming Spy Robot
5 Amazing Buildings Made of Shipping Containers
8 Weird and Wacky Items Sold on Amazon.com – really!
Dome Homes
More Cool Architecture

LEGO USA | LEGO UK | PURCHASE THROUGH AMAZON | FOLLOW US ON TWITTER