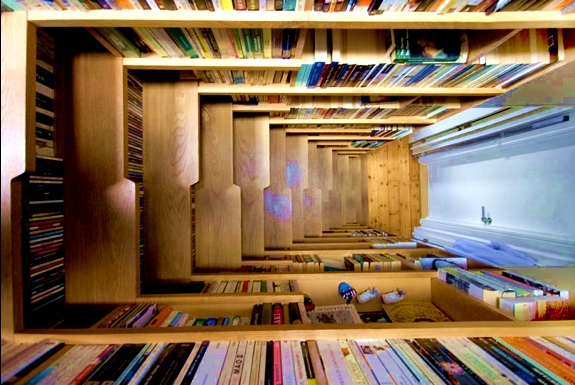 Spot Cool Stuff loves books. And we love creative staircases. So it isn't surprising that we're drawn to cool stuff at the confluence of both.
Here's a look at two unusual architectural designs that combine stairs with bookshelves. Has it happens, both are located in London. And neither has an owner that's about to move their book collection to an Amazon Kindle anytime soon.

Levitate Architects Bookshelf Staircase
Private home, North London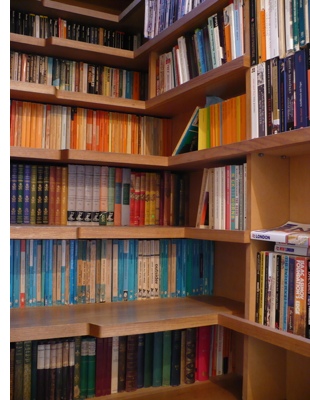 Necessity breeds innovation, they say. And that's exactly how this cool bookshelf came about.
The owners of a small 70 square meter (753 sq. foot) tow house in London needed more livable interior space. Together with their design firm, Levitate Architects, they decided to turn the attic space into a loft bedroom.
But how to maximize the space leading up to the bedroom? For that, they designed a stairwell that could double as a mini-library. As is obvious from the photos, the stairs themselves are the bookshelves. Harder to see is how the unusual shape and staggering of the stairs make them comfortable for sitting on. The stairs are designed for people to curl up with a book for a prolonged time; there's even a skylight directly above the stairs to provide ample natural light for reading.
The most impressive architecture feat of this staircase is one not visible in the photos. This home is in a 1898 Victorian building and the old floor was not able to accommodate the weight the staircase would have placed upon it. So the entire staircase, books and all, literally hangs from a steel bar built into the foundation of the home!
LEARN MORE | JOIN US ON TWITTER / FACEBOOK / PINTREST |




'Ark' Bookshelf Tower
Victoria and Albert Museum, London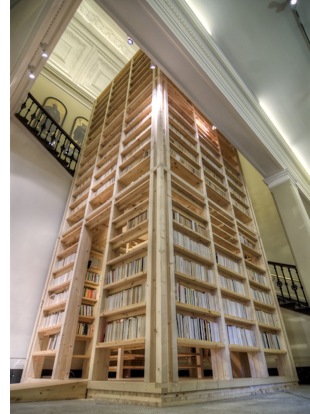 The bookshelf-staircase reviewed above is in a private home. The huge advantage of this staircase—the 'Ark' Bookshelf Tower—is that you can go see it for yourself. It's located inside the Victoria and Albert Museum in the Cromwell Gardens area of London.
The goal of the people who built the Bookshelf Tower—a design team from Rintala Eggertsson Architects—was to create a "liveable bookshelf." No, there's not a built-in bed, bath or kitchen. But the spacious two-story structure feels like the sort of inviting, cozy space one wants to crawl into. The 6,000 books that sit on the shelves are all pointed inwards, creating the look of a uniform white wall from the outside; colorful spines greet people inside the tower.
The 'Ark" Bookshelf Tower, not incidentally, is part of the well-worth seeing exhibition at the V&A Museum that's all about small spaces. Check the museum's listing of current exhibits to see if it will be showing during your visit.
LEARN MORE | JOIN US ON TWITTER / FACEBOOK |
published: 3 Feb 2012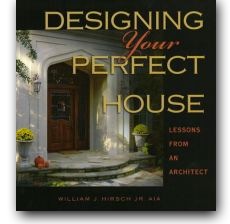 Related posts:
Creative Gifts For Architecture Lovers
Install a Hidden Swimming Pool—In Your House
The Office Pod For Your Backyard
Modern Murphy Bed Designs
Cool iPod Docks Made From Recycled Books
Three Books To Help You Survive Anything
The World's Best Playgrounds
The Gore: London's Opulent Victorian Hotel