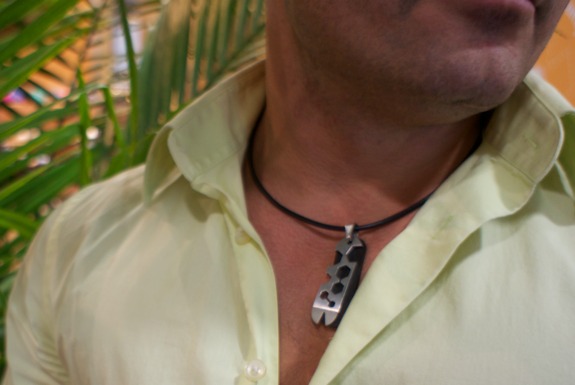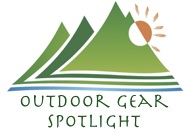 It isn't a multi-purpose tool that happens to look good. Wenger's HypeX Jewelry is designed look like jewelry first and foremost. It just happens that these jewelry pieces can also function as screwdrivers or fire starters or wire strippers or the like.
There are currently six offerings in Wenger's HypeX jewelry (or should we say "toolry") line:
• The Pietra – a pendant with a knife-sharpening stone on one side and first-starting flint on the other.
• The Buss – a contemporary pendant featuring two screwdrivers—a Philips-head and flat head.
• The Whug– a pairing of an emergency wooden whistle and precision tweezers.
• The Ridge – a combination hex wrench, pry, wire stripper and bottle opener (shown in top photo).
• The Corkoran – doubles as a fashionable wine bottle opener.
• The Wyss – a can opener, bottle opener, hex wrench, pry and wire stripper.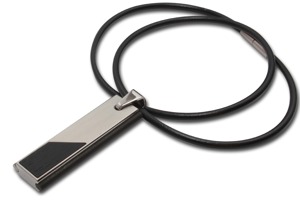 Each HypeX selection includes a 21-inch silicone necklace with a stainless steel clasp. As an extra bonus, each comes in packaging that can be put towards some use other use: either a plastic waterproof pouch sized to fit an iPhone (pic below) or a black neoprene case with removable foam inserts.
HypeX jewelry is not for sale at the time of writing, but will be by Christmas 2012 via Wenger's Europe and North America websites. More than 100 other pieces in the HypeX line are on the proverbial drawn board.
Of the HypeX toolry that's been released so far, each has a modern, funky look that some might consider to be more masculine. However, the pieces are designed to be unisex and that's how Spot Cool Stuff sees them. Besides, what man wouldn't be attracted to a woman wearing a wine bottle opener around her neck?

published: 12 Aug 2011

PURCHASE WENGER GEAR | JOIN US ON TWITTER / FACEBOOK |
Related post:
10 Creative Pieces of Geek Jewelry