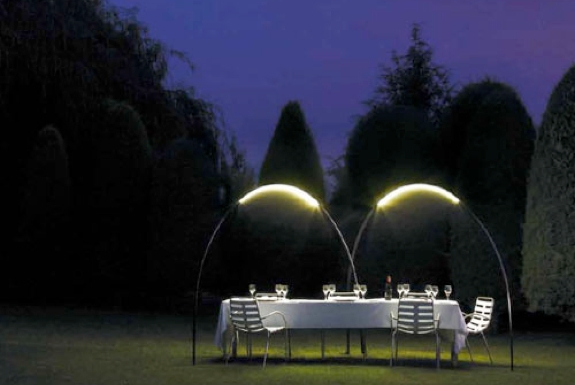 Bringing lamps and lights outdoors after the sun goes down can bring a festive atmosphere to a dark patio and a touch of magic to hidden garden. Here's our look at five outdoor lamps and lighten systems. Some are expensive and some are high value, but all of them, we think, are very cool looking.
Also, if you like these check out our new post on 5 more cool outdoor laps and lights.





Halley Floor To Floor Lamp
VIBIA
The Halley Floor To Floor Lamp arcs over an area like the comet it's named after, illuminating the way as it goes. Each lamp has two weighted bases. Three lightweight aluminum poles then stretch between the bases, of which the middle contains built-in LED bulbs that shine through a frosted polycarbonate diffuser. The effect it creates is stunning. The $3,000+ price tag for a Halley Floor To Floor Lamp is stunning in an altogether different way.
Note: The Halley also comes in a less expensive Floor To Wall variation for indoor use.

Solar Powered Globe
Sharper Image
Oh, how we love these Solar Powered Globes. Let us count the ways: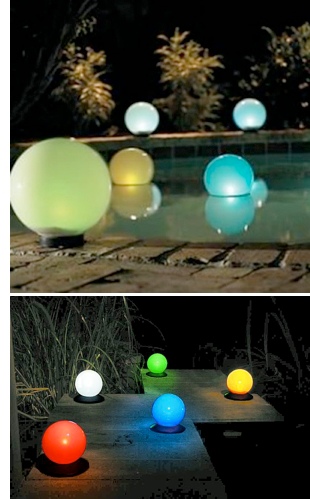 1) Though they run off of solar energy, the globes don't look like they do — the solar panels are cleverly and discretely located inside the globe's base.
2) Said solar energy is stored in a replaceable Ni-MH battery inside each globe. A fully charged battery can power the light for 12 hours.
3) The globes are lit by internal RGB LED bulbs, which mean they are capable of producing a virtual rainbow of different colors.
4) The colors change (or not) based on three user setting; have the bulb shine white-only, let the bulbs cycle through colors or pause on any one color.
5) A Solar Powered Globe costs only $49.
And if those weren't reasons enough:
5) The globes float on water! Just make sure you close the bottom compartment tightly.

Mia Serata Outdoor Mood Lights
Twist Lighting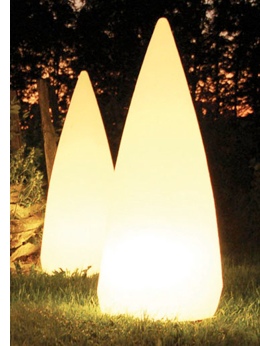 Coneheads are dorky. The cone-shaped Mia Serata Outdoor Mood Lights are cool. They're available in two sizes. The small ones — 3 foot (0.9m) tall — are good for lining walkways or illuminating table tops. But it's the tall size — 5 feet (1.5m) tall, to be exact — that can look truly stunning. Place them around water or scattered among foliage and they'll light up an entire area. Their weather resistant shell means these lights can be left outside for prolonged periods.


LEARN MORE & BUY | JOIN US ON TWITTER / FACEBOOK |

Wind Floor 4050
VIBIA
Spot Cool Stuff adores outdoor lamps that are designed to look like indoor lamps. The Vibia Wind Floor 4050 is one of these. It's made from fiberglass and acrylic so it is very lightweight. Unfortunately, the photo (below) is a little misleading since this lamp does have to be plugged in. Available in white, black, green and orange.
JOIN US ON TWITTER / FACEBOOK / PINTREST / GOOGLE+ / LINKEDIN / TUMBLR

Luau Portable Lamp
OXO
A hybrid between a lamp and a lantern, the Luau is a light designed by OXO for portability and ease of use. The Luau rests on a base when charging. When you lift it off its base (or if your electricity shuts off), the lamp would automatically illuminates. Rotating the bottom of the lamp adjusts the brightness.
The Luau's soft light looks stunning at night and is altogether more pleasant than a flashlight when camping. Spot Cool Stuff especially appreciates the kid-friendly nature of the Luau: the durable build makes it hard to break, the lamp has no cords and dangling wires, and the LED light makes the lamp cool to the touch.
updated: 22 March 2014


Related posts from Spot Cool Stuff:
3 Lusciously High-Design Lamps from Lumens
Best Websites For Online Dating and Finding Romance
4 Sleeping Bags (That Look Like Something Else)
A Review of the Coolaroo Shade Sails