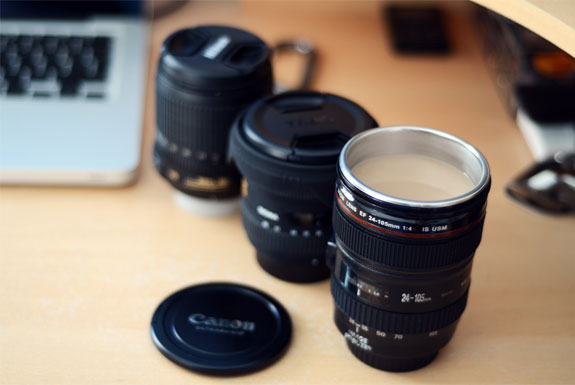 People who love photography tend to really love photography. They also tend to already have all the cameras, lenses and bags they need (or can afford). So here are 8 relatively inexpensive gifts that the photographer on your gift list is likely to appreciate and not already have. Of course, you should feel free to give any (or all?) these to yourself too.

Canon Lens Mug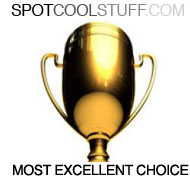 Finally, a mug that let's you focus on your coffee!
Spot Cool Stuff is completely enamored with the Canon lens mugs. And we're confident any photography-loving recipient of one as a gift would be too.
From the outside each mug looks exactly like a camera lens—so much so that one should be careful changing lenses lest one find oneself pouring hot tea into one's camera. The clever design belies the mug's sturdy construction and well-insulated area for liquids. More than one size is available, making us wish there was some photography-themed coffee shop at which these mugs are used. We'll take a macro-lens latte and telephoto cappuccino, please.
LEARN MORE & BUY | JOIN US ON TWITTER / FACEBOOK |

Photo-opoly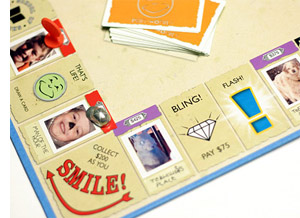 It's like a version of Make Your Own Monopoly for photographers. Except with Photo-opoly you use your own photos to create the playing board. Replace Boardwalk and Park Place with photos of your dog and cat. Turn the Railroads into snap shots of your favorite vacation spots. Photo-opoly comes with virtually all of the materials you'll need including blank and pre-printed property deeds.

Smugmug Power or Pro Account
Spot Cool Stuff declares the photo management website Smugmug to be superior to Flickr. Photos looks better in Smugmug's design. Smugmug has better privacy options, sharing capabilities and customer service. They allow private domains and custom watermarking. Smugmug will also backup photos and video (including huge HD files).
What's especially cool for amateur photographers looking to transition to professional (or at least semi-professional) is that Smugmug allows users to sell photographs in their own custom-branded online shopping area. Launching a photo store through Smugmug is easy. The website will create the store interface and take care of the credit card transactions and customer service issues. All photographers have to do is select what photos they'd like to sell and for how much.
So what's the catch? Smugmug isn't free. Membership plans run from the $35/year for the Basic plan to $145/year for the Pro. The major advantage of the Pro plan is the photo selling. If you or your lucky photographer giftee doesn't need that we suggest Smugmug's $55/year Power plan.
LEARN MORE & BUY | JOIN US ON TWITTER / FACEBOOK |





Photojojo Retro Camera Strap T-Shirt
They are so oddly retro that they are cool. Photojojo's Camera Strap T-Shirts come in Polaroid on gray and Leica on red. 1970s bell bottom jeans not included.
LEARN MORE & BUY | JOIN US ON TWITTER / FACEBOOK |

My Memories Software
Some photographers are purists, people who hang photos in expensive minimalist frames on white walls. Others are more into the unhindered creativity and fun of photography. For those in the second group the My Memories software and digital scrapbooking service is heavenly. Online "kits" make it easy to place photos into creative designs that can be stored online and/or mailed to you on a disc. The software, which is really excellent and requires no training to use, allow for personalized photo scrapbooking creations—save money by purchasing it from Amazon.com.
LEARN MORE & BUY | JOIN US ON TWITTER / FACEBOOK |

Lens Bracelets
Wear your love of photography on your sleeve. Literally. Photojojo's lens bracelets are similar in material and design to Lance Armstrong's famous Live Strong bracelets. Except the Photojojo version is cooler. The bracelets come in 50mm and a 24-70mm zoom. Get one for $10 or both for $15.
LEARN MORE & BUY | JOIN US ON TWITTER / FACEBOOK |

Photographer's Travel Guidebooks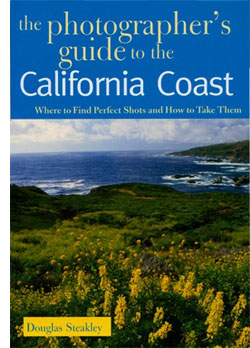 Even expert photographers don't necessarily know where to go to get great photos, especially when they venture far afield. That's where a good photographer's travel guidebook comes in. Each book is different depending on the destination; the best of them will include useful maps of good shoot locations and suggestions for times to get the best light.
If you are looking for more of a travel photography coffee table book (as opposed to a practical travel guide) we suggest National Geographic's Journeys of a Lifetime: 500 of the World's Greatest Trips.

Monsterpod
Your photographer gift recipient almost certainly already has a tripod. But almost certainly not one like the Monsterpod. The bottom of this unusual camera stand is a "viscoelastic morphing polymer," which is scientific way of saying "it sticks to pretty much anything." Gentle pressure is all that's required to attach the Monsterpod to most surface types, from rough (like tree bark) to smooth (such as glass). To remove simply lift up—no adjustments of legs, cranks or knobs required.
The Monsterpod weighs only 6 ounces (170g) but is strong enough to hold a camera that weighs up to 20 ounces (570g). That means it won't work with a heavier camera but that it can accommodate all compacts and lighter SLRs such as the uber popular Nikon D3100 equipped with a 18-55mm lens.
LEARN MORE & BUY | JOIN US ON TWITTER / FACEBOOK |
published: 9 Feb 2011





Related posts & pages:
The Best Travel Camera For Your Trip
10 Great Gadget Gifts For Under $100
Cool Digital Camera Reviews