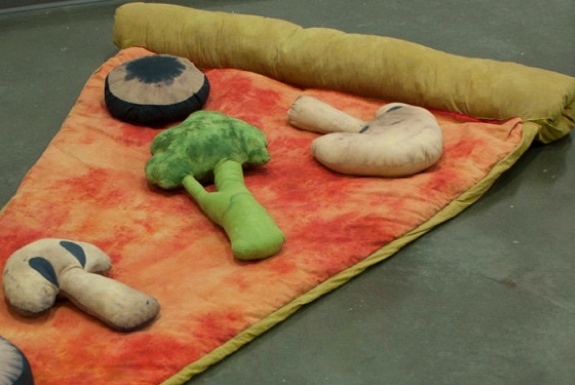 None of the four sleeping bags reviewed below are ones you'll come across shopping the REI sleeping bag finder. Practical, portable, warm—these four sleeping bags have none of those qualities. But each does have a design that's novel (to say the least) and a look that resembles something un-sleeping-bag-like:





Up late one drunk night in college, Spot Cool Stuff had the idea of selling a sleeping bag that looked like a slice of pizza. We never followed through on our idea, probably because we thought of it while in college and sleep deprived—and, as mentioned, drunk. But we're thrilled that some one else did.
That some one is artist Brook Abboud, who sells on Etsy.com all manner of furniture and personal accessories that resemble food. Among her creations are a carrot scarf, a waffle bed with syrup sheets and a baked potato beanbag chair.
Abboud's Slice of Pizza Sleeping Bag is completely made to order by made. She even dyes the fabric herself to give it that cheese 'n' sauce look. Topping choices include broccoli, mushrooms, olives and pepperoni. It's probably for the best that anchovies are not an option.
LEARN MORE & BUY | JOIN US ON TWITTER / FACEBOOK / PINTREST |

ThinkGeek should come up with an April Fool's gag every day. The online purveyor of cool stuff has a tradition of advertizing a completely made-up product every April 1st. Their shoppers, in turn, have a tradition of clamoring to buy that made-up product in real life.
That's what happened with the Tauntaun Sleeping Bag. A Tauntaun, of course, is a dinosaur-like creature that the good guys rode into battle on the icy planet Hoth in the original Star Wars movie. Han Solo used his lightsaber to cut open the warm carcass of a dead Tauntaun to keep an injured Luke Skywalker from freezing to death.
With this sleeping bag, you can reenact that scene in the privacy (and warmth) of your living room. The bag features "simulated Tauntaun fur" (as opposed to real Tauntaun fur), a pattern of Tauntaun intestines on the inside and even a lightsaber zipper pull. Counting on it to save you from hypothermia—on any planet—is not recommended.
For another ThinkGeek product that got its start as an April Fool's prank check out the iCade.
LEARN MORE & BUY | JOIN US ON TWITTER / FACEBOOK / PINTREST |

The Anatomical Model Sleeping Bag is the creepiest thing we've seen since visiting Mexico's Island of the Dolls. Perfect for a sleepover with medical students or a camping trip with Hannibal Lecter, this sleeping bag features a removable veiny face. The same Japanese manufacturer also makes sleeping bags shaped like tuna fish and Egyptian pharaoh Tutankhamen.
LEARN MORE & BUY | JOIN US ON TWITTER / FACEBOOK / PINTREST |

The Chumbuddy gives a whole new meaning to "swimming with the fishes." It's really not so much a sleeping bag as it is a giant stuffed animal you can crawl inside. We really like the plushness of it, but the manufacturer, Patch Together, must have received complaints because they recently introduced the Chumbuddy2 with less stuffing. The newer incarnation is supposed to be "easier to carry and more functional as a real sleeping bag." We don't doubt that it is. Though are portability and functionality really prime concerns when in the market for a sleeping bag that looks like a giant shark?
LEARN MORE & BUY | JOIN US ON TWITTER / FACEBOOK / PINTREST |
published: 4 May 2012


Related posts:
10 Cool Sushi-Incorporated Designs
8 Cool Gifts (Under $50) For Photographers
Airwear: Airport Code Clothing and Accessories
Best Dating Websites for Finding a Fling