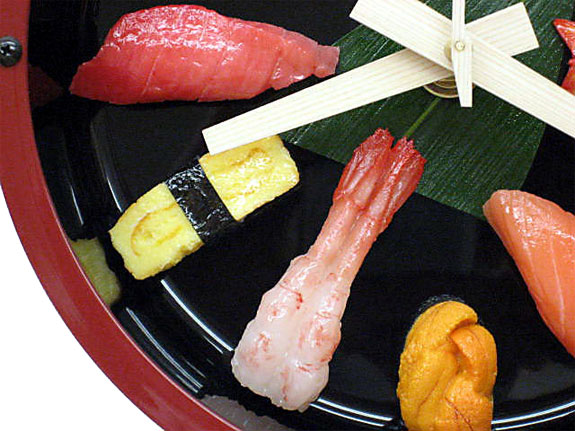 Any self-respecting sushi chef will tell you: Presentation is as important as taste to a superior sushi dish. That's because sushi, in addition to being delicious, can also be artistic.
Here's a look at some household items with a sushi design. None of these items are edible. But, if you are a fan of sushi, they will make you hungry:




Sushi Clock
It's ten past yellowtail tuna on this cool sushi clock. The hands of the clock resemble chopsticks. And the exterior of the clock looks like a Bento bowl. US$300+

Eyeglass Case
You may not believe your eyes when you look down at this handmade eyeglass case—in the right light it looks like a real plate of sushi. Each case is custom made, at least in terms of size. Getting extra wasabi may be more difficult. Sold through Etsy. $14

Socks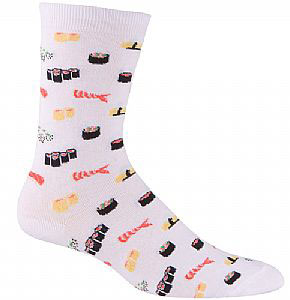 These are officially classified as "novelty socks," but who wouldn't want to add a touch of seafood fashion to their everyday wardrobe. Especially since these socks are guaranteed not to make your feet smell fishy. Available in wasabi green, rice white and salmon pink. $8

Sushi Soap Bento Box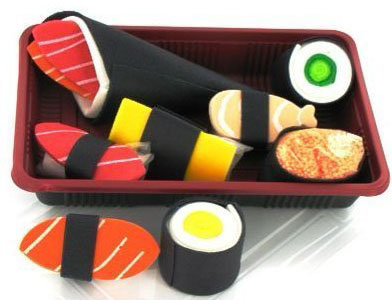 For your future reference: It is better to take a bath with sushi than it is to eat soap. But better than both of those is to wash yourself with sushi soap.
From across a room, the sushi in this Bento box set looks delicious. Get closer, though, and you'll get the sense that something smells fishy. The tamago roll, salmon sushi and other Japanese delicacies are bath soaps. $6


Sushi Pillows

These sushi pillows are raw genius. The plush 8-inch-high (20cm) shrimp and tuna nigiri renderings are the coolest looking of the selection; these white rice and fish pillows may seem precariously tied together but in fact they won't come apart—even when dipped in too much soy sauce. We aren't as fond of the edamame pillow—on its own it resembles a large green slug. However, all four pillow together (see pic below) can create the fun illusion of being in an over-sized Japanese restaurant. $17

Sushi Vinyl Shower Curtain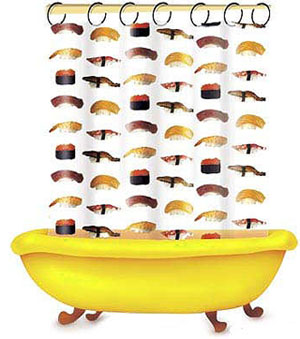 It's the perfect companion piece to the sushi soap (above). This sushi-themed shower curtain is 70-inches high—that translates to 5.8 feet, 177.8 centimeters or 181.3 slices of sashimi. $19

Tote Bag
The cool online store Cafe Press has several items printed with sushi designs. Our two favorites: a coffee mug (see below) and this tote bag. From a distance one can only make out the polka dots; up close artistic sushi drawings come into view. $17

Sushi Mug
A decaf skinny squid nigiri, please.. This sushi mug is another great Cafe Press item. $15

Sushi Slippers
Instead of sushi on a bed of rice, how about sushi on your feet? These wonderful slippers surround your feet in soft fleece. And because footwear as cool as this shouldn't be confined to the indoors, they also sport a grippy weather-resistant underside. We also love how they come wrapped in deli-style paper with a label detailing "nutritional facts." $28




Sushi Pajamas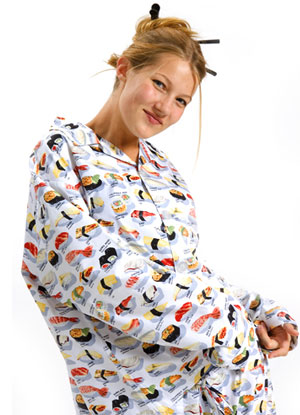 If you are a fan of Buffy the Vampire Slayer, Will & Grace or the Gilmore Girls you may already be familiar with seafood-themed sleepwear. In each of those shows, a main character strutted around in a pair of these cool sushi pajamas. Every pair of PJs are 100% cotton and very comfortable. While wearing them, you'll surely fall into a zen-like sleep, dreaming of sake and wasabi, though your sleeping partner might wake up next to you and think he or she is staring at a Japanese restaurant menu. $86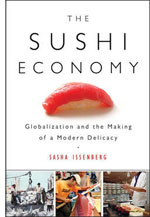 Related posts:
The Sushi-Shaped Daybed
9 Cool Home Aquariums
Ithaa Undersea Restaurant
The Cat Cafes of Tokyo
Bathe with Monkeys ← near Nagano, Japan
Onta, Kyushu: The Village That Goes Thud in the Night
Japan's Monkey-Waiter Restaurant