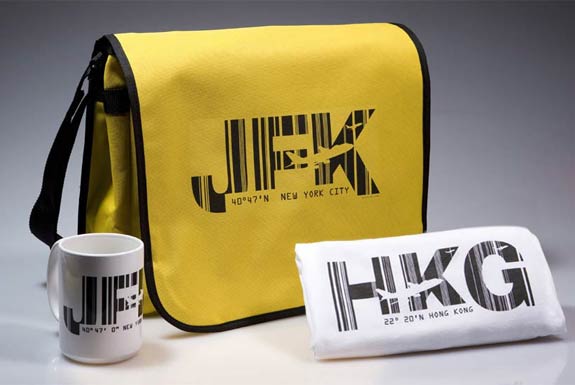 Spot Cool Stuff can get geeky when it comes to airport codes. Those three letter combinations unique to every airport, used on all manner of airline documents from tickets and checked bag tags, are familiar to every frequent air traveler. So it was only a matter of time before some one incorporated those codes into the design of travel gear.
That some one turned out to be Jason Solarek, a former journalist and diplomat in South America. Solarek apparently shares our love of airport codes because he's made them central to host of products collectively called Airwear.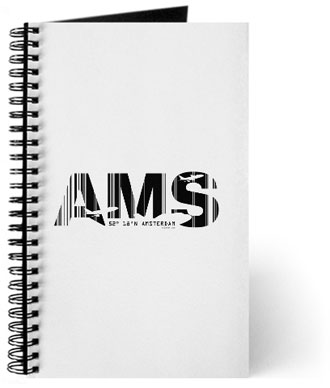 All Airwear products have an airport code prominately displayed along with the corresponding city name and latitude coordinates. Gear is available for every major airport (and quite a few minor ones) from Albuquerque to Zurich. Airwear will also custom build an item with an airport code of your choosing.
Our favorite Airwear offering is their messenger bag. It isn't quite as functional as the excellent, albeit non-airport-coded, version from Skooba Designs. But it is constructed from an extremely durable 600 denier polyester (see closeup photo, below) and has a useful slip pocket inside the main compartment. Plus it looks cool.
We also like Airwear's ceramic 15 oz coffee mug (though wish white was not the only color choice). Other Airwear products sporting airport codes include travel journals, tote bags, t-shirts, baseball caps and stickers. All the items are sold through the cool artsy online store CafePress.com.
Whatever Airwear products you choose please take care when checking in for your flight. Otherwise you may find yourself flying to LHR while your checked messenger bag is on a plane bound for HAV.

LEARN MORE & BUY | SHOP CAFFE PRESS | FOLLOW US ON TWITTER |





Spot Cool Stuff's Favorite Airport Codes
If you pick up some Airwear you'll likely choose a product with your home airport code or the code for an airport you have a particular attachment to. But what if you simply want the best airport code?
Well, there's lots of fun to be had combining airport codes. Get an airline ticket from San Vito, Costa Rica to Helsinki, Finland to Anderson, USA and then to Baku, Azerbaijan and your luggage tag would read TOO-HEL-AND-BAK.
As for single airport codes here are Spot Cool Stuff's five favorites: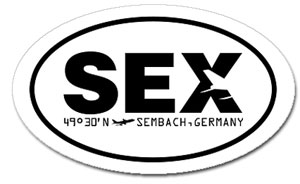 #5 SEX – Sembach, Germany
Want to send your luggage away for a weekend of debauchery? Apparently this airport is ideal.
#4 FAR – Fargo, North Dakota, USA
The thing of it being that Fargo is indeed not close to much of anything.
#3 SUX – Sioux City, Iowa, USA
Sioux City isn't really that bad.
#2 FUK – Fukuoka, Japan
Spot Cool Stuff's former home airport; our admittedly juvenile selves had to snicker a bit whenever we checked a bag to there.
#1 YYZ – Toronto
All airports in Canada have an airport code that starts with Y. Most have some logic to them; eg. YVR is Vancouver. But for some inexplicable reason Toronto is YYZ. We love the randomness of that. YYZ is also the only airport code to become the title of a popular song, an instrumental from Canadian rock band Rush. The song is meant to capture the spirit of the Toronto airport, from the stop-and-go nature of waiting for flights to the roar of jet planes. Click below to hear snippets of two versions of YYZ-the-song: the first is the 1981 Rush original, the second is a more mellow version from The Vitamin String Quartet (which does cool classical music renditions of every Rush tune from their album Exit… Stage Right as well as covers of popular hits from Metallica, Michael Jackson and Queen, among others, though now we are really getting off topic).

updated: 29 Mar 2011

LEARN MORE & BUY | SHOP CAFFE PRESS | FOLLOW US ON TWITTER |
Related posts & pages:
7 Items for Reducing Air Travel Frustration
Yotel: The Cool & Cozy Airport Hotel
Airfare Deals & Discounts
The World's Best Airplane Blanket
The High Design Georg Jensen Voyage Passport Holder
A Review of Scottevest Vests and Jackets: iPad-Compatible Clothing




LEARN MORE & BUY | SHOP CAFFE PRESS | JOIN US ON TWITTER / FACEBOOK
Do you have your own favorite airport code? Fly down to our comments section: