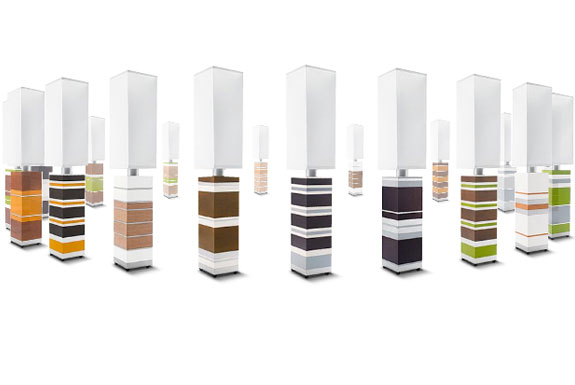 Looking for a contemporary lamp but can't find one with the ideal pattern of colors? Customize your own lamp creation at Inhabit.
The intuitive Inhabit Builtby online lamp builder makes the creation process easy. (See the screen shot after the jump.)


First, click on a square body piece of your choice and drag it over to your Builtby lamp base—each piece ranges in height from 4 inches (10cm) to .25 inches. (Or, you can edit a preselected grouping of pieces).
Next, assign each piece a color or wood texture. The website will keep a running tally of your lamp's cost as you design.
Then click add to cart and purchase. Shipping in North America is free.
There are four different woods you can use to create your lamp: oak, rosewood, walnut, and wenge. Sadly there are only five colors options: baby blue, lime green, orange, silver, and white. Still, that choice of patterns and colors is enough for more than a million different Builtby lamp design possibilities.
Every Builtby lamp is be environmentally friendly. The base pieces are made from 100% recovered wood fibers; no formaldehydes or VOC finishes are used. But be warned: with the fun online tool and all those design options you may find yourself buying more than one.
Related posts:
3 Luscious Lumens Lights
Wallpaper in 3D
How Much Would You Bid On A Cave House?
LEARN MORE & BUY | BUY HOME FURNISHINGS | FOLLOW US ON TWITTER