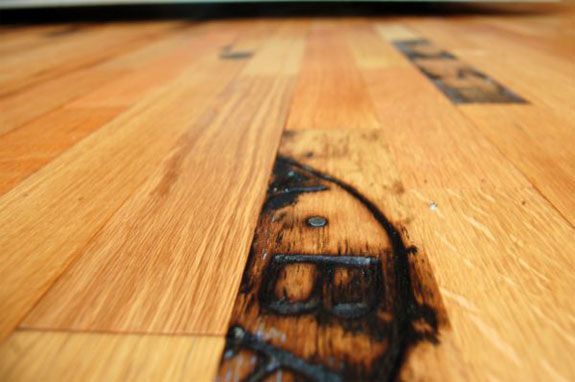 Spot Cool Stuff loves upcycling—the process of taking used materials and converting them into an item of higher value. In the past we've featured fabulous furniture made from old shopping carts and stylish sandals made from discarded tires. In this post, we check out three cool flooring materials made from items that in their first incarnation had nothing to do with flooring.

Whiskey Barrels
Several companies use reclaimed wood to make hardwood floors (and wood cabinets and exposed beams and the like). But Glasgow-based McCay Flooring upcycles wood from a specific and unusual source: old barrels. Old oak whiskey barrels, to be specific. The markings from the barrels are visible on some of the floorboards—a look we find very cool.
For better and for worse, the reclaimed material does not smell of whiskey. Nor can you get drunk by licking your floors. But it is relatively easy to install. And McCay will ship the flooring to anywhere in the world. £199 per square meter.
LEARN MORE & BUY | JOIN US ON TWITTER / FACEBOOK |




Cork
Cork is great stuff. It's a sustainable, environmentally friendly material. It's also impermeable, elastic, durable and naturally fire resistant. All that makes cork a wonderful material for flooring.
CorkStore.com sells several types of cork flooring. Of those we're partial to the mosaic floors that Jelinek makes from reclaimed wine corks. Making your own cork flooring—or at least your own cork mats—isn't so difficult. You can buy used wine corks on Amazon. Or, better still, start drinking lots of wine.
LEARN MORE & BUY | JOIN US ON TWITTER / FACEBOOK |

Leather Belts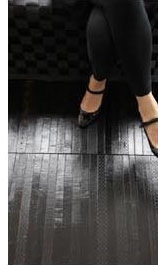 Spot Cool Stuff first introduced you to black leather floors in our review of the Crazy Bear Hotel in Old Beaconsfield, England.
If you want that same S&M-esque look in your home consider the flooring from Ting. The eco-centric London company uses vintage black leather belts to create their modular flooring "tiles." Each belt is distinctive and some retain their buckle holes. The end effect is a bit dark for our tastes, though we do like how this flooring doesn't look like it is made from belts unless it is examined up close. £50 per square foot.
LEARN MORE & BUY | JOIN US ON TWITTER / FACEBOOK
published: 28 Jan 2011





More Spot Cool Stuff links:
The Next Generation of LED Light Blubs
A Review of Egypt's Cool Adrere Amellal Eco-Resort
How To Charge an iPod with an Onion and a Sports Drink ← really!
Samsung Reclaim: The Free Smartphone Made From Corn
Elsewhere on the web: