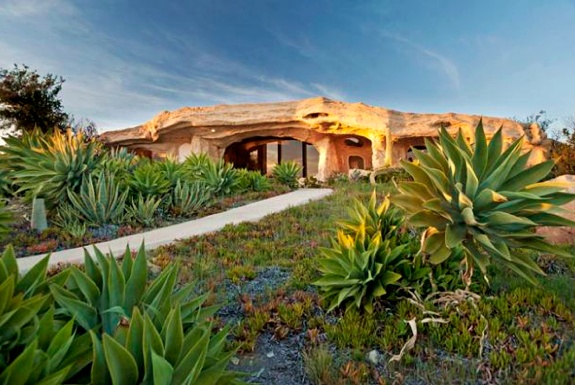 Recently deceased American TV and radio legend Dick Clark was best known for hosting American Bandstand, the game show Pyramid and Dick Clark's New Year's Rockin' Eve. But the man often described a "the world's oldest teenager" left behind more than memories and an impact on American culture. He also had a house that was inspired by the 1960s Hanna-Barbera cartoon The Flintstones.
Clark's abode is not the first inspired by an animated film or television show. Among the fictional houses created in real life are The Simpsons house and the flying house from the movie Up (yes, with real balloons that really do make it fly!). But the Dick Clack Flintstones house differs from those projects in two distinct ways: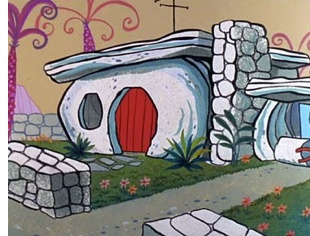 First, the house is not intended to be a replica of the cartoon version. There's no bird record player. There's no wooly mammoth shower. No attempt was made to duplicate the layout of the cartoon house in which the Flintstones family lived, which is just as well as the Flintstones animators weren't faithful to the home's dimensions show-to-show.
Second, the Flintstones house was designed to be a private permanently-inhabited home. It wasn't built as some Flintstones marketing ploy. It simply had an owner, Dick Clark, who is obsessed with the show.
Or, rather, he was obsessed with the show. Before he passed away, Dick Clark put his Flintstones home for sale (which is how these interior photos of it became public). Maybe living in a cartoon-inspired faux-rock house wasn't such a yabba dabba doo time.
The Malibu, California estate sits on 23 sprawling hill top acres with views of the Pacific Ocean. Yet the house has only two bathrooms and one bedroom, which doesn't quite seem enough for a modern stone-age family. Nevertheless, Fred and Wilma wannabes make it theirs for a mere US$3.5 million.
published: 19 April 2012

WATCH THE FLINTSTONES | JOIN US ON TWITTER / FACEBOOK / PINTREST |
Related posts:
5 Only-In-America Travel Experiences
LOST Hawaii Filming Locations
The Best Cave Hotels in Cappadocia, Turkey
Where To Find Duff Beer in Real Life
WATCH THE FLINTSTONES | JOIN US ON TWITTER / FACEBOOK / PINTREST




Read more cool architecture reviews