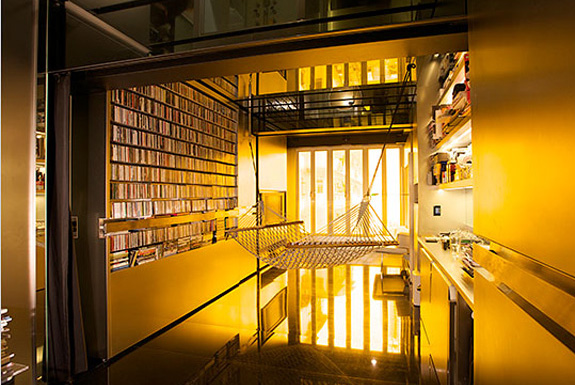 An apartment that's 32 square meters (344 sq. feet) is small. Really small. By way of comparison, that's about the same amount of space it would take to park three mid-sized sedans (think Toyota Camry) side by side.
So, how many rooms could you squeeze into a 32 square meter apartment? If you are Hong Kong architect Gary Chang the answer is: 24!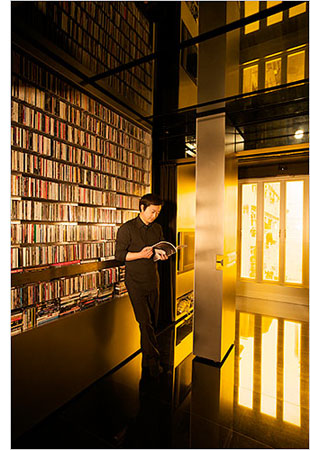 The key is that not all 24 rooms are available at once. Chang lives alone and, not subscribing to metaphysical theories of simultaneous alternate realities, realized he could only occupy one room at a time. That freed him to create an ingenious system of moving hydraulic walls and shelves. When he wants to go to the "bedroom" he slides down a murphy bed. A trip to the "kitchen" entails sliding a wall to reveal the stove and sink. The "library" is behind yet another sliding shelf. The "guest room" folds down over the tub.
All this did not come cheaply. It only cost Chang US$45,000 to buy his high-rise apartment but $218,000 for the latest interior renovations.
We say "latest" renovations because Chang is constantly experimenting with new and creative ways of maximizing the livability of his 32 square meters. He's captured them all in a coffee table book My 32m2 Apartment, a 30 Year Transformation. It is proof, if any were needed, that small can indeed be beautiful.
published: 15 Oct 2010

GARY CHANG BIO & PRODUCTS | JOIN US ON TWITTER / FACEBOOK |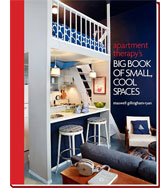 Related posts:
Install Hidden Doors and Secret Passageways In Your House
Small, Minimalist Architecture (That Looks Like a Jenga Game)
Autopia Europia: The World's Largest Car Dealership
The Frank Gehry Designed Hotel
Become a LEGO Architect
7 Cool Upside-Down Buildings











LEARN MORE & BUY GARY CHANG PRODUCTS | JOIN US ON TWITTER / FACEBOOK
Read more cool architecture blog posts