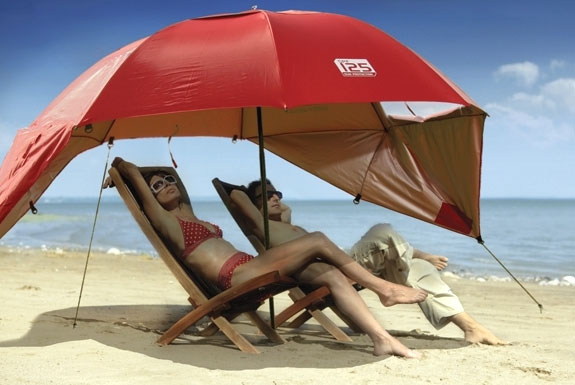 The old fashion beach umbrella. It's ubiquitous at beach resorts—and in fruity drinks—world wide. But it is difficult to transport. And your typical beach umbrella becomes sub-optimal at the start and end of a beach-going day when the sun isn't shining directly down.
Now from sporting good manufacturer SKLZ comes a better—and much more portable—version of the beach umbrella: the Sport-Brella.

The Sport-Brella weighs around 15 pounds (7kg) and, folded up, is approximately 4.5 feet (1.37m) long and 4 inches (10cm) in diameter at its thickest point. That's too large for backpacking but certainly compact enough to stow in a car and carry short distances. It also means that the Sport-Brella is allowed as a carry-on by most airlines.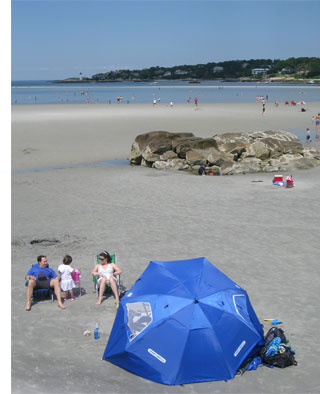 Once transported to wherever you'd like a personal bit of shade, the Sport-Brella is easy to set up. There are two basic options: stand the Sport-Brella straight up (above photo) or lay it tilted on the ground at an angle (below photos). In either case the set up takes a matter of seconds. The Sport-Bella opens much like a typical rain umbrella and comes with everything you'll need, including bungee cords and round and "hook" ground stakes.
The Sport-Brella offers UPF 50+ sun protection and keeps out 99.9% of both UV-A and UV-B rays. We also like the fold down "windows" and the little pockets for storing valuables. Add an umbrella hook for even more storage options.
Our largest complaint? While the Sport-Brella's material is waterproof the slots at its top are not. Those slots are important for keeping the Sport-Brella from blowing away, and in a light rain the design will keep occupants dry. But expect to get wet in a downpour.
The standard size Sport-Brella offers eight feet of shade. Though for a slightly higher price, we think it is worthwhile upgrading to the nine feet of shade offered by the XL version of the Sport-Brella.
If you really want to complete your Sport-Brella experience SKLZ also sells a matching umbrella chair. Unfortunately, miniature Sport-Brellas to put in fruity drinks are not yet available.
LEARN MORE & BUY | FOLLOW US ON TWITTER / FACEBOOK |
Related posts:
Coolaroo Shade Sails ← not your grandparent's patio umbrella
Travel with your own Wood-Burning Spa
3 Cool, High Design Hammocks
The Senz Wind-Resistant Umbrella
A Review of Maui Jim: The World's Best Sunglasses








LEARN MORE & BUY | JOIN US ON TWITTER / FACEBOOK / PINTREST
Read more travel product reviews