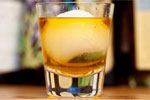 spot cool stuff DESIGN
Whiskey on the rocks. For some drinkers, that's their preference. For purists, whiskey should be had straight-up. But we imagine both groups could come together and share a drink cooled by a large, impressive-looking ice ball.
Indeed, well-to-do Japanese (preferring communalism over conflict) have been drinking whiskey with large ice balls for nearly as long as they've been drinking whiskey. Initially the ice balls were carved using an ice pick or, more dangerously, an ultra-sharp sushi knife. In recent years, though, the Japanese have been using a special ice ball molding machine. And now, thanks to the cool Japan Trends Shop, you can make ice balls by machine too.
---