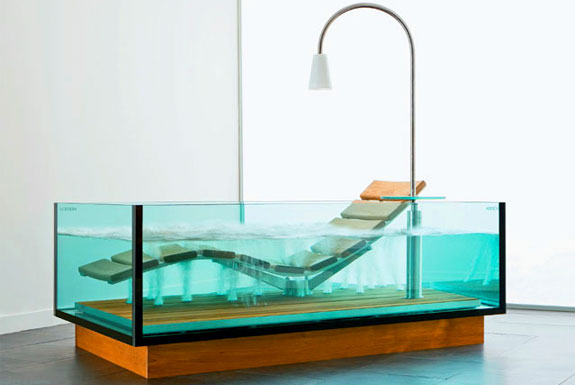 It requires a certain personality type to have a see-through bathtub at home. Even if you always take your baths in total privacy there's something about a transparent tub that says I don't mind people seeing every part of me from all angles.
Those who can pull off a clear tub will almost certainly get a cool bathroom as a result. Not only do clear tubs convey a distinctively modern look they also help make a bathroom look larger and more open.
Here are six of Spot Cool Stuff's favorite see-through bathtubs:





Hoesch Water Lounge
Germany-based Hoesch has been making bathroom products for over 250 years. But despite being rooted in history the company's design sensibilities are distinctively modern. Exhibit 1: The Hoesch Water Lounge. It's appropriately named, being less of a bathtub and more of a deck lounge chair that happens to be in a glass cube that might or might not be full of water. Jets from underneath the tub's wooden floor shoot upwards providing a full body massage.
LEARN MORE | BUY HOME FURNISHINGS | FOLLOW US ON TWITTER |


Wasauna Glass Bathtub
Stylistically the products from Wasauna, based in Arizona USA, seem to be all over the map. But their Glass Bathtub is definitely cool. While the tub's sides are glass the based is stainless steel and spotted with anti-slip dimples. The headrest is padded and adjustable. And the faucet and hand-held shower spray is chrome. Normally US$6,400, this tub is currently "on sale" for $3,200. If that's a little over your budget check out the company's clear, though slightly less cool looking, Newport Hydromassaging Tub.
LEARN MORE | BUY HOME FURNISHINGS | FOLLOW US ON TWITTER |

Omvivo Le Cob Bathtub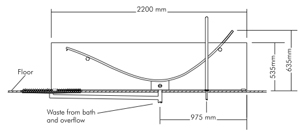 It's like an infinity pool expect, instead of overflowing all around the tub, all the excess water pours out of the rear of the tub. Underneath the overflow area is a field of pebbles; it is pretty wonderful hearing the stream of tub water falling down on the bed of stones. However, the tub itself holds very little water, making it more for relaxing than actually getting clean.

LEARN MORE | BUY HOME FURNISHINGS | FOLLOW US ON TWITTER |

MILO Spa@Home
There's something creepy-voyeuristic about a see-through bathtub made for two. Yet WS Bath Collections has managed to pull off exact that in a sculpted, artistic way with their MILO tub, part of the company's Spa@Home collection. The elegant Milo is easy to install—the freestanding base can simply be plopped on top of a shower drain. Choose from a base of brown leather or white, red or black wood.
LEARN MORE | BUY HOME FURNISHINGS | FOLLOW US ON TWITTER |





Novellini Cristalli
The Cristalli tub, from Italian design firm Novellini, is similar to the MILO (above). Except this tub, part of Novellini's Elysium collection, is less comfortable. It is also arguably more modern-chic looking and so would better compliment a bathroom with a polished floor or one that's heavy on stainless steel.
LEARN MORE | BUY HOME FURNISHINGS | FOLLOW US ON TWITTER |

Teuco Duralight Corner
All the above bathtubs have two transparent sides and so are designed to be placed in the middle of a room. Teuco makes a selection of clear tubs meant for more traditional against-a-wall placement. The one we've featured here is Teuco's corner unit; they also make a rectangular model. The two coolest features of this tub? It has "invisible" nozzles that jet massaging water from the tub's floor. And the tub's two removable head-and-back rests are made of a comfortable gel and also double as the tub's faucets!
LEARN MORE | BUY HOME FURNISHINGS | FOLLOW US ON TWITTER |
published: 8 June 2010

Related posts:
Jade Mountain Resort: The Best View From an Infinity Pool in the Caribbean
The World's Largest Swimming Pool
The Best Waterproof Cases for the iPhone and iPad
The Portable Woodburning Spa
Waterproof Ultra-Compact Cameras: Canon vs Olympus
Bathe With Monkeys in Jigokudani, Japan ← really!