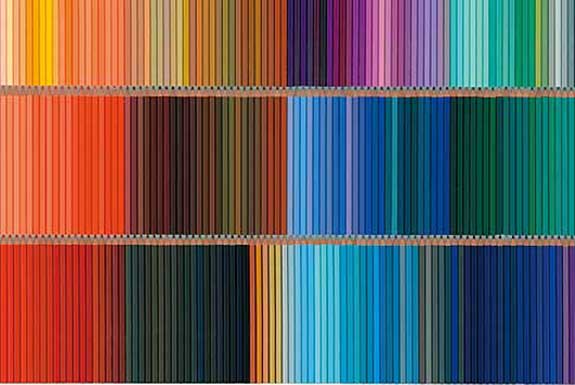 You may have heard of the Beer of the Month Club, which sends its members a case of a different type of beer every month. There's also a Cheese of the Month Club, a Flower of the Month Club, a Dinner & Movie of the Month Club, a Bowtie of the Month Club and many, many more.
Now, from the Japanese company Felissimo there's something akin to a Colored Pencils of the Month Club. Though it is way cooler than that.
The colored pencils from Felissimo are intended not so much for creating art, but more for being art. Along with the pencils, Felissimo sends clear holders that can be combined to create an artistic design.
Felissimo customers can choose desktop holders or freestanding "color wave" holders (see photos, below). But Spot Cool Stuff is partial to the large modular wall display—from afar it looks like a riot of color, only close up can one recognize the component parts.
Purchase Felissimo's standard package and you'll receive 25 pencils a month for 20 months. The pencils in each mailing are of similar hues and include a new holder. We like the idea of having an art piece that grows over time but if you are an inpatient sort you can receive all 500 pencils and corresponding holders at once.
In addition to these pencils looking cool, you can, of course, use them to draw with. But be careful not to lose one. You'll go crazy trying to replace it with just the right color.
LEARN MORE & BUY | BUY HOME FURNISHINGS | FOLLOW US ON TWITTER |
Related posts:
A Cool Website for Finding Arts Patterns & Color Palettes
Light Emitting Wallpaper
The Museum of Bad Art
9 Cool Home Aquariums
The World Erotic Art Museum









LEARN MORE & BUY | BUY HOME FURNISHINGS | FOLLOW US ON TWITTER

See more art and home decor ideas