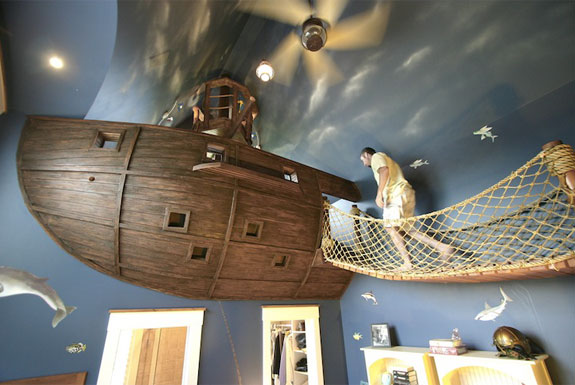 Pillaging. Plundering. Wearing baggy pants. Arr, there's good inspiration for a bedroom. Or so though thought Steve Kuhl, founder of the aptly-named Kuhl Design & Build remodeling company based in Minnesota, who had the task of creating a dream bedroom.
The design theme Kuhl and his client decided on: pirates!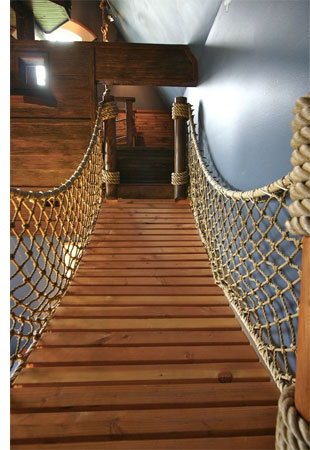 Central to this pirate bedroom—and to any good pirate adventure—is the ship. It's made from aged timber and perched up in a corner of the high-ceilinged bedroom. There's a crow's nest to climb on and a second bed for guests (who, we imagine, would not be in short supply with a bedroom this cool). The most obvious way aboard the ship is by way of a ladder and suspended bridge. There's also a climbing rope that drops from behind the classic ship steering wheel down to a closet.
Other design aspects of this scallywag's bedroom: a sky and underwater decorative motif on the walls and a small brig (perfect for locking up siblings). But perhaps the coolest feature of this bedroom, if not particularly pirate-themed, is a slide behind a hidden panel. Jump into the slide and you'll loop around four times before being dumped out into in a side room two floors below where you started.
It's all enough to make you wear an eye patch, get a parrot for your shoulder—and wish you had parents with this much creativity.
published: 9 Mar 2011

LEARN MORE ABOUT KUHL DESIGN | JOIN US ON TWITTER / FACEBOOK |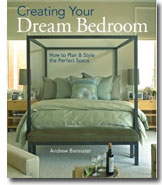 Related posts:
The Best Remodeling and Home Improvement Websites
Cool Caribbean: Dominica ← Pirates of the Caribbean filmed here
A Review of Blue Cave Castle: Negril's Affordable, Unusual Hotel
Shipping Container Architecture
Take a Cargo Ship Cruise
Cool Coolaroo Shade Sails
Install Hidden Doors and Secret Passageways in Your House
Cool Bedroom Furniture Reviews





LEARN MORE | BUY BEDROOM FURNITURE | JOIN US ON TWITTER / FACEBOOK