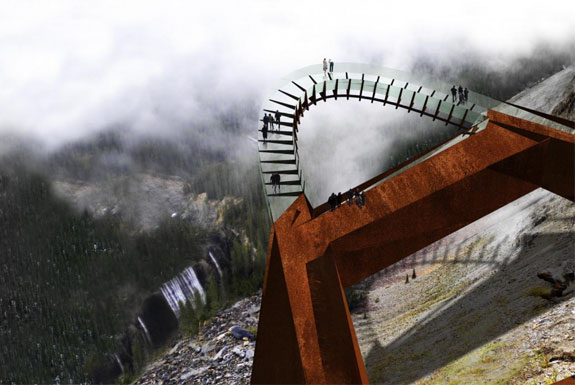 Spot Cool Stuff has mixed feelings about building grandiose tourist infrastructure like the Langkawi Sky Bridge and the Grand Canyon Skywalk. We want to keep natural spaces natural. Yet some of the architecture that encroaches upon nature is fantastically cool.
So it is (sort of—we'll get to that part soon) with the proposed Glacier Discovery Walk in Canada's Jasper National Park near Banff.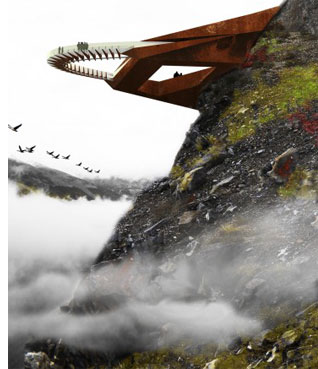 Plans for the Glacier Discovery Walk call for a 400-meter "interpretive trail" that will wind along a mountain top.
The highlight: an observation platform on a Cantilever that juts out 35 meters from the cliff edge. Then, jutting out an additional 30 meters (100 feet) from that, is a curved, see-through, Plexiglas walkway! Together, the platform and walkway promise to offer both amazing views and a cruel torture for those afraid of heights.
The Glacier Discovery Walk was conceived by Sturgess Architecture, which won an open competition with their design. Access to the observation platform would required a paid ticket but the Discovery Walk as a whole would be accessed via a free shuttle bus from the Brewster Glacier Discovery Centre, 6.5km away.
The shuttle bus would be the only way to get to the Glacier Discovery Walk. And therein lays what advocates claim is the project's environmental benefit. There's currently a highway pull-out on the site of the proposed Discovery Walk. One could argue that by rerouting the public road away from the site that its natural beauty would be better preserved than under the current status quo. On the other hand, the road could presumably be diverted without building the Glacier Discovery Walk at all.
Thoughts to share on the Glacier Discovery Walk? Head to our comments section, below, and/or share your feedback with the project's backers. If all goes to plan, the Glacier Discovery Walk will open to the public in May 2012.
published: 25 Mar 2011

LEARN MORE & BUY | JOIN US ON TWITTER / FACEBOOK |