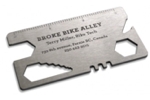 spot cool stuff DESIGN
Previously, Spot Cool Stuff reviewed the best websites for printing business cards. For that post, we assumed people were looking to print business cards that were cool-looking, distinctive but also relatively inexpensive.
But what if cost were not so much a factor? Then there's another business card strategy you could follow: To encouraging potential business contacts to hold onto your card have it double as a useful item. Below are seven examples of such useful business cards, each pulled off to a varying degree of success.
---