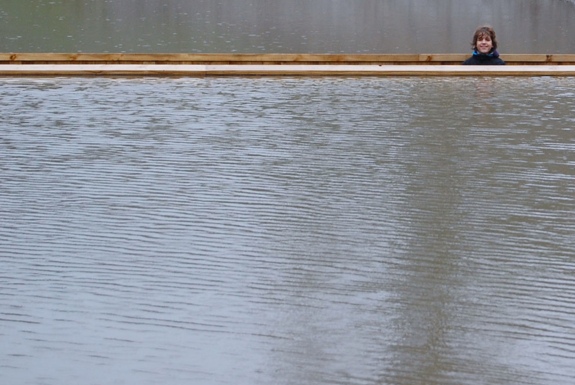 When at water level, you can't really see the bridge that crosses a moat to the 17th-century Fort de Roovere. View it from a bit of elevation, though, and the bridge isn't only visible but looks rather puzzling. That's because the bridge—near the coastal town of Halsteren, Holland—doesn't span over the water. And it doesn't skim along the surface of the water. Instead, the bridge goes through the water.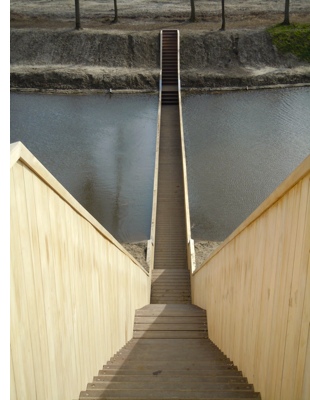 Looking at the bridge head on, the effect is quite striking. The water appears to part Red Sea-like. No wonder locals have nicknamed it the "Moses Bridge."
Officially, the bridge is named the Loopgraafbrug, which translates from Dutch as "trench bridge." The one at Fort de Roovere may be the only permanent trench bridge in the world.
Typically, building a trench bridge isn't a reasonable option. First, it only works if you are crossing a body of water that isn't moving. Second, the water must not only be shallow but also have a relatively consistent depth. Even then, building a trench bridge isn't nearly as efficient or practical as a traditional one.
Nevertheless, the local architectural firm charged with designing the bridge, Ro&Ad Architects, decided on their non-traditional design as a nod to history. The moat that the bridge crosses was originally built to protect Fort de Roovere from attacks from the Germans or French. Building a standard above-water span would subtract from the defensive look of the moat. A sunken bridge, however, would be nearly invisible from a distance and would keep the look of the moat area unmarred.
The Loopgraafbrug was chosen as a finalist for the 2011 Dutch Design Awards. The eventual winner was an adaptation of a concrete bunker that, ironically, also looks like it was parted in half by Moses.
LEARN MORE (Dutch only) | GUIDEBOOKS |
published: 1 Dec 2011

Related posts:
Amazing Views From Malaysia's Langkawi Sky Bridge
Unusual Travel: The Invisible Treehouse Hotel
Creative Gifts for Architects and Architecture Lovers
Holland's Wine Cask 'n' Breakfast
LEARN MORE (Dutch only) | GUIDEBOOKS | JOIN US ON TWITTER / FACEBOOK

Read more cool architecture reviews


Have ideas of your own? Share them in a comments section, below: