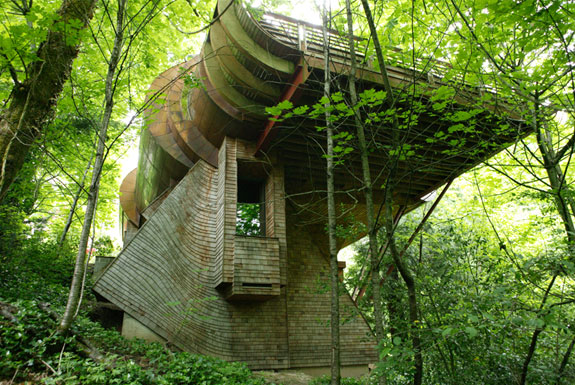 We love architecture that can look cool while also blending into its local environment. Architect Robert Harey Oshatz designed a house in Portland, Oregon that does exactly that. From Oshatz's website:
Located on a flag lot and a fast sloping grade provided the opportunity to bring the main level of the house into the tree canopy to evoke the feeling of being in a tree house. A lover of music, the client wanted a house that not only became a part of the natural landscape but, also addressed the flow of music. This house evades the mechanics of the camera which makes it difficult to grasp the spaces as they flow inside and out. One has to actually stroll through the house to capture it's complexities and it's connection to the exterior with the use of a natural wood ceiling floating on curving laminated wood beams which pass through a generous glass wall which wraps around the main living room.
See more photos and descriptions from the architect below.